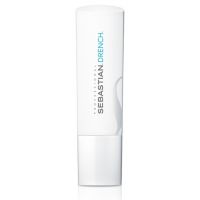 "Drench" is Aptly Named

I just looked at my last several reviews, and they're all about moisturizing. I didn't plan to do that, but I suppose that, although I love snow, the severe cold in Pennsylvania (and much of the country) this fall and winter has made a lot of us want to get clean, cozy, and think seriously about moisturizing every part of our bodies, hair included. Sebastian's™ "Professional Drench™" Conditi...read moreoner lives up to its name. I would not recommend it for those with fine or thin hair, but it takes hair in already good or distressed shape and revitalizes it beautifully. It has a pleasant scent. I rub through all of my hair, concentrating the bulk on my ends. Hydrolyzed silk, jojoba seed oil, and rice bran oil are just some of the ingredients which work quickly to repair any hair distress, calm frizzy strands, and temporarily mend split ends. I love when I use this, as I use a lot of different brands, but tend to stay mainly with Neutrogena's "Triple Moisture Daily Deep Conditioner" and their "Triple Renewal Weightless Conditioner." Like the Neutrogena formulas, this does not weigh hair down. After use, hair is especially silky, glossy, bouncy, sweet-smelling, voluminous, and ready to flaunt!

No slip, not hydrating.

Hair felt like straw. Could not get comb my hair with a wide tooth comb, in the shower after applying or after rinsing.

Great for dry curly hair

I love this conditioner, it is great with my dry curly hair. My hair isn't as frizzy when I use this conditioner and shampoo. If I travel and forget to bring my shampoo and conditioner with me and use something else my hair comes out frizzy and full of tangles. This is the only shampoo and conditioner Ill ever use.

Back
to top