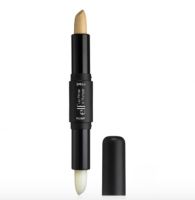 Good Multi-Use Product

This dual-ended product is a pleasant surprise. The light flesh-toned primer allows you to very SLIGHTLY change the shape of your mouth so that you can follow with a lip pencil or brush and adjust it with color. If your lipstick is too dark, it makes the shade more workable. I absolutely LOVE the cinnamon scent of the plumper. There is a little difference in the size of my lips for a small tim...read moree, but I have never found a plumper that was more than temporary. The cinnamon reminds me of homemade candy made in this area around Christmas time, a delightful scent. It is more than worth the small price paid.

burned my lips

At first try, I was like this is awesome I can feel it working. Ya, until I looked at my lips and noticed the skin looking different. It is simply not for me.

I love the primer. The plumper... meh.

The primer is amazing for keeping my color on all day, and it keeps the color true, since it is light in color. The plumper feels weird on my lips. It's almost a cinnamon-y scent, and it almost feels like my lips are burning. I miss the OLD lip plumper that they used to have years ago. But the primer is amazing, and it's totally worth the price.

Back
to top