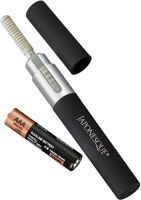 Threw it away

This absolutely pales in comparison to the traditional eyelash curler. Does not give signifcant results which means it wastes my time. I tried it exactly as the instructions indicated. Ladies, put your hair dryer on your favorite lash curler and you will see results. This... not so much.

Oh yeah

This is great! Easy to use, slim, handy, and gets the job done! It doesn't get hot, it gets just warm enough to make your lashes stay put. I will never go back to a traditional eyelash curler ever again!

Waste of money and time

I am a major Japoneque fan, and I had high hopes for this product, but I was never able to get it to work nearly as well or as easily as heating my standard eyelash curler with my blow dryer (test it on the inside of your arm before putting it near your eye. I think this is the only Japonesque product I've disliked.

Back
to top