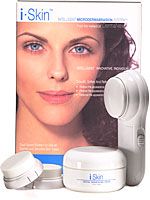 No Results

I tried this system at the "Overwhelming Recommendation" of a Derma-Diva friend of mine. Let me say this.. I did not see any noticeable changes in my skin, the overall look, brightness, tone or anything other than the dimishing of my pocketbook and if you are looking for a good at home microdermabrasion either read others reviews or do yourself and your pocketbook one better and just stay at home...read more! This should be a last resort for anyone looking for noticeable changes in their overall complextion.

Ok at best and I ended up with little bumps

I used this for about two months when I noticed that I started to get little bumps on my forehead and and the sides of my cheeks. It exfoliates well but it didn't do anything for fine lines or small wrinkles. I will stick with Retin A. The bumps went away when I stopped using it.

It's ok

I agree with the other reviewer in that it isn't really going to get rid of spots but works fine to exfoliate the skin.

Back
to top