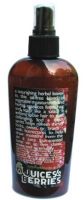 Oyin Handmade Juices & Berries
As low as
The only leave-in that has actually lived up to its claims.

When I initially purchased this, it did nothing for my hair and I forgot all about it. I rediscovered it and tried it before showering, so that the glycerin would catch the humidity in the shower. My hair was so soft, like never before. This is the first leave in that actually left my hair soft and manageable HOURS after using it. Usually a product will work on my hair when wet, then stops working when it is dry. Not this. I definitely recommend it.

The Holy Grail

MY HAIR LIVES FOR THIS STUFF!!!!! I use JnB everyday on my naturally curly hair and my hair just loses its mind. The smell is so good . JnB makes my hair super soft (a must esp. if its a very sunny day which has a tendency of frying my hair). Even with daily use (weekly washes) I never get buildup. It's not sticky either. I've gotten about 5 friends hooked on it. Amazing!

Back
to top