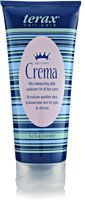 I don't get it....

Okay why. Why??? Why does this not work for me like it does everyone else? I just can't get behind the hype. It's thin, it's watery; it detangles definitely but I do not see a huge difference in the way my hair looks, feels, or behaves! Is this product just not made for me? Or maybe I am just not made for this product. Oh well. There are millions more out there to try; at least I don't have to pay the high price!

snoopyaf

Great for dry hair that always is out of control. Use Terax and your hair becomes silky free. Shampoo is great also

Shiny, happy hair

I really love this conditioner. I have medium thick, wavy hair and I battle dry ends due to daily heat styling. I use this as a 15 minute, weekly deep conditioner and it keeps my hair soft and manageable. It has a clean scent and rinses away clean. It is non-greasy and never weighs my hair down. I'm not sure that I would use it everyday unless you have thick/coarse/damaged hair.

Back
to top