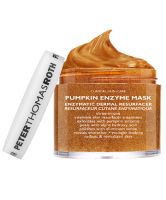 love it

first of all, this stuff smells so good i could eat it. secondly, it really works!!! i get congested skin around my chin area, and the rest of my face is pretty dry. this mask dissolves all the dead skin so that when i rinse it off, my face is totally baby smooth. love it.

Strong and effective

I'm a sucker for pumpkin masks! This one is excellent! It is very strong, so make sure to pay attention to sensation and do a patch test on your neck first. If it starts burning, remove it. For sensitive skin types, you can mix it with a little bit of water to dilute it. It still works. Sometimes if my skin is a little dry because of the weather I need to add some water in order to buffer my sensitive skin. Excellent product that gives the results you want.

Powerful

If you have dry and sensitive skin you might want to do a patch test first because this is an intensive mask. Not as much as Exfolikate, but you get the point. Just use caution and follow the directions closely. The pumpkin scent is natural, the AHA's work, and this gives back a glow in the winter.

Back
to top