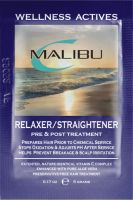 Malibu Wellness Actives Relaxer/Straightener Pre & Post Treatment
As low as
Thank you Malibu Wellness!

I've been a user of Malibu products for nearly 20 years and I have to say their new Malibu Wellness Actives are a HIT with my clients and I. They deliver quick, awesome results for my customers at home or for me in the salon; even when I'm in a pinch for time. The Relaxer/Straightener Wellness Active works like a charm for those who suffer from hair damage/breakage or scalp/hairline irritation dur...read moreing or after their relaxer/straightener service. (I even use this for my perm customers and it really makes a difference) My clients and I love the fact that we can help address current issues from their chemical services as well as help PREVENT future issues from ever becoming a problem! Thank you Malibu Wellness for these amazing products that provide real solutions for my (and my clients) everyday issues!

The best relaxer I've used so far!!!

Last time I had relaxing (I have really kinky hair), my hairdresser used this product on my hair before and after. Every time I got the relaxing my scalp would burn for a couple days, but she washed out the relaxer with this active, the burning stopped right away. Usually more of the curliness comes back, but it's still pretty straight.

Back
to top