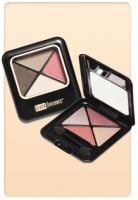 Black Radiance Eye Shadow Quartet
As low as
some of the colors are comparable to MAC colors...but

I have almost all of these quartets and I've used them alone and with my MAC colors and I like it better when I use it with the MAC. The colors are highly pigmented, which I like, but sometimes the shimmer in it is bit to much for me. They also make great liners with some rosewater/glycerin on a wet brush. I'm going to have to use them more to get some better ideas I suppose...

this is such a great product

even if you are not african american...which i am not!!!! but the colors are great and hevily pigmented...which means more bang for your buck (if you excuse the phrase) anyway it has great pigmentation...comparable to mac's and glides on just as easily as clinique colorsurge eyeshadows!!!! and the metalics are past awesome!!!!!! and if you are looking for an alternative for expensive brands...th...read moreis is it!!!! price point is around three nintey nine to seven ninty nine awesome if you askme....

Back
to top