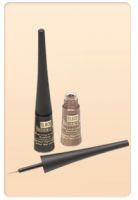 Black Radiance Fine Line Liquied Eyeliner
As low as
Good product, Good Price

I bought this product because I wanted to try liquid eyeliner again after about 10 years. This product is good. it goes on easily and precisely and didn't smudge on me at all during an8 hour work day. Unfortunately, I noticed that my eyelid was irritated by it. After using this for about 2 weeks (not everyday) my eyelid became itchy. It stopped itching once I stopped wearing the product. I a...read morem going to try it again in a few days to make sure that it is the eyeliner that is causing the irritation. bummer because I really like it's smooth application.

One of my Favs!

When I first bought it I had a lot of trouble with this product. After making sure there wasn't too much on the brush before using it, it went on easily. Only complaint is you have to be very careful while using it, like many other products it is a pain when it gets in your eye. If you have lids that fold over make sure you don't put it where it will touch, regardless if it is dry, it will leave a...read more mark. It has those down falls but I think it's worth the price, for me it stays on all day & night (even through clubbing).

What I Expected From the Price

I bought this in black several months ago at a RiteAid. I only bought this because I didn't bring much money with me and this only costed around $3.50 (cheap :] ). Anyway, this goes on really smoothly and nicely, dries quickly, and looks good when it dries. The only complaint I have is that it smudges really easily. I didn't buy the waterproof one because it's harder to wash off, especially since this is an eye product.

Back
to top