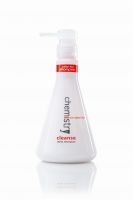 Chemistry Salon Labs Cleanse Daily Shampoo
As low as
Must have for oily hair

I love this shampoo. I have very oily hair and have been told numerous times by my stylist not to wash it every day, but anytime I would try to skip a shampoo my hair would get super greasy. I tried this shampoo after having the keratin straightening treatment because it is sulfate free. The first time I used it I felt like I hadn't rinsed it all out but I don't get that anymore. I really like it ...read morebecause I can go a day or two between washes now with this shampoo without getting overly greasy like before. Plus it is pretty inexpensive. It is very gentle. My only complaint is the pump doesn't push out as much as I wish, I have to pump it like 6 or 7 times which can be a pain.

I love this stuff....

I have a sensitve scalp, and i have tried so many shampoos that it is unreal. I have now found my everyday shampoo. It cleans wonderfully. I have to say that when you first start to use it, it "seems" like you can't rinse out good enough. It is because it doesn't contain the ingredients that strip your hair. I also have very oily hair, and with this I do not have to wash everyday, and my hair still looks fresh and clean. I am very impressed and will continue to use this.

Back
to top