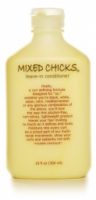 Great for Hair

I really love this leave in conditioner because it doesn't feel heavy or greasy and adds a lot of moisture to my hair. It keeps it soft and tamed and keeps my locks looking great all day with a fresh scent.

Loved it

I use Mixed Chick's leave in every time I wet my hair. Since I live in Florida nothing really works to keep the frizz down but the more moisture your hair has in it the better. This really helps keep my hair moist along with a another leave in I use that is not on this site but should be. If you have curly hair and live in a humid climate you will have issues with frizz. I have tried them all but a combination of several work the best for me. This is one of them.

Curls

I love this product - One step to perfect hair! It's true that hair stays nice overnight, but the product does build up and can get sticky by the end of day two. Also the comment about frizz in humidity is true (but really what can be done about that?). Definite recommend.

Back
to top