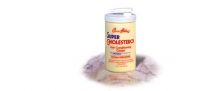 A Healing Hair Miracle for a Pittance

This was one of the first beauty products I ever used to enhance my auburn hair. I've used it since and will continue to do so. It's very affordable (about $3.50 for a generous tub). It worked years ago and it works now to smooth, soften, coat split ends, add shine, and overhaul my hair in general. It is a thick cream. Use after washing for fifteen to thirty minutes for a hair miracle. To en...read morehance the effectiveness, work thoroughly and lavishly through hair and cover with a cap. Then use a heat cap for penetration (a hot towel can work well in this capacity, too). The ingredients could not be more moisturizing: It contains gylceryl sterate, a wax-like substance, a combination of glycerin and stearic acid, which helps to hold in moisture. Mineral oil is plentiful, as is cholesterol. Cholesterol is fat, often taken from olives, aloe, carrots, and more. It is an essential to hair which has lost its lipids due to over-processing and/or coloring. Cholesterol clings to the hair shaft, lending shine and smoothness, repairing damage, and reducing any frizzy appearance. I like the pleasant scent and find that with continued weekly use, my hair is far more able to handle the heat from blow dryers, curlers, and more.

Nice

Nice deep conditioner. Leave hair soft, moisturized and easy to comb thru. Nice product

Excellent for dry hair!

I had colored then removed hair color twice on my own, and being 30 years old that was not the best idea. When I went to a salon I thought they were going to fall over! They suggested this product to help build it up again, after taking off as much hair as they could. I swear that stuff just felt like mush when wet. Anyway, really works well!

Back
to top