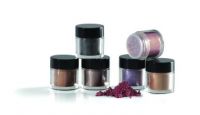 Eyeshadow in Golden Beryl

You can't beat the effect of true mineral pigment of these shadows. It doesn't scream in a garish way but gives you a glow that stands out naturally. My color is an earthy golden copper and it does a good job of fitting into any kind of eye look, whether it's smoky or layered or daytime. I always ask myself why I don't wear this more whenever I use it to do my eyes. Plus the nice opening at the t...read moreop lets you shake some powder out into the cap without actually dipping your fingers or brushes into it, which keeps it fresh longer.

Youngblood crushed mineral shadow

this eyeshadow is the absolute best. I've tried hundreds of colors and different brands and nothing compares to this shadow. 'Cashmere' is my favorite. it goes on so smooth and shimmery. doesn't crease or get dull throughout the day. amazing!

Youngblood mineral makeup

This eyeshadow is the best. many different colors to choose from plus it lasts all day. no fading like cheaper shadows. great to use for day looks and intense enough to use at night also!

Back
to top