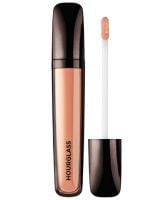 Luscious Lips!

Hourglass calls this "the crème-de-la-crème" of lip glosses. I'd have to agree with that statement. The tube is oblong, with the color of the gloss showing through the front. I bought it in "Ignite," a gently shimmering rose beige. It is decidedly "cushiony" and comforting, and the gloss stays in place for long hours. Glycerin, Vitamin E, castor seed oil and more go to work to keep your pout moisturized. This is a pleasure to use, with a delectable vanilla scent.

Love this!!!

I'm not one to buy lip gloss since I find them sticky but this one is amazing. It has the most unique texture. Really silky and smooth but yet moisturizing. It seems to last longer than other lip glosses I've tried. It kind of reminds me of NYX butter glosses that I love so much but less tacky and more silky, The only bad thing is it is kind of sheer so it can look kind of patchy in some spots but it leaves my lips super soft when removed.

The Best Lip Gloss... Hands Down!

Absolutely fell in love with Extreme Sheen when it came out over a year ago. The texture is amazing! It's hard to explain but when it has a "cushiony" feel to it. Not thin like it's ready to wear off in a few minutes. It's not tacky/sticky and the smell is amazing! I'm not one to repurchase lip gloss as I'm always looking for the latest and greatest... yet this is one I keep on returning back to. Highly recommended!!

Back
to top