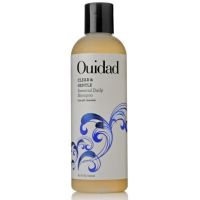 Ouidad Clear & Gentle Shampoo
As low as
Great shampoo used with Ouidad system

I recently started using the Ouidad products, and this is one of the 2 shampoos I got, and the one I use the most. It is working, together with the other Ouidad products, to turn my fine frizz into waves and curls, and so far I'm very happy. (I also finally went and had a cut (and color) at a Ouidad certified Salon (with Ana at Tivon Salon in Blacksburg VA). Not cheap, but very good, and she taugh...read moret me how and when to use each products for my specific hair and styling issues). One of the things she impressed up on me is that I should NOT be washing my hair every day- 3 times a week max. I think that makes a big difference in the "frizz" department... This is the first time I've ever done anything specifically to enhance my wavy/curly, fine (& often frizzy) hair and so far I like it a lot. I'm not totally "there" yet, still experimenting with a number of their products and ways to style my hair (and using the diffuser makes a BIG difference for me), but I really like the Ouidad products so far, and they seem to be working for me. My hair remains soft and bouncy and shiny, and the styling techniques the stylist taught me are "doable" at home & easy- and I'm a big fan of "low maintenance" hair styling!

my favorite shampoo

awesome shampoo for all hair types. doesnt strip hair, doesnt irritate my scalp into flaking with regular use (like most shampoos). i wish she marketed more to all hair types; this shampoo is one of the best shampoos for any hair type. contains sulfates, but most of that sulfate talk is hype. it contains the mild, mild detergent type of sulfate which is safe for colored hair.

Back
to top