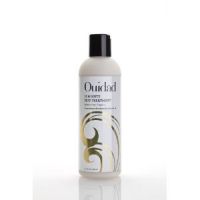 Ouidad 12 Minute Deep Treatment
As low as
WOW!!

I've used just about every deep conditioner out there and I must say this is top-notch!! I followed the directions to a T and by the time i had finished styling my hair, it was like my curls had taken on a new life!! The only thing I would advise, because this conditioner is very, very thick, is that prior to using this, PLEASE use some kind of clarifying shampoo. I can only imagine if I hadn't...read more that my hair would have been dull and weighed down by this. By using a clarifying shampoo, you're giving your hair a fresh chance to take in all of that good stuff Ouidad put in her brew :) A really simple tip, just add one whole tablespoon of baking soda to your normal shampoo and your hair will be clean as a a whistle!!

just ok

I had high hopes for this, but it only delivered so so product. It needed to be more moisturizing, but it left my waves a little on the limp side. Nice cocunut scent.

just bleh

I really didn't like this. It seemed like so much work (but I followed all the directions, left it in etc) and I was expecting so much more. My curls seemed limper and dull after using this product. I was hoping to condition them and make my hair seem healthier- but instead of helping the spirals, they seemed to sag. I guess it was softer? But not in the way I wanted. It took a couple weeks for my...read more hair to get back to normal. It's also very pricey- and the amount said to use is a bit much, my hair felt supersaturated; so I backed off a bit. I don't know what would have happened to it if I had used the full recommended amount! I do have medium-curly hair. I get spirals naturally, but not super-tight ones. Perhaps this would help if you had super curly hair?

Back
to top