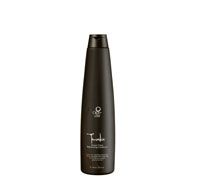 Tawaka

Beauty Product Review: Tawaka Ancient Tribal Rejuvenating Conditioner by Ojon (Sephora $32) I wouldn't call myself patient. I abhor sitting in the salon chair for hours on end to get highlights. So in preparation for the 4th of July weekend, I jumped in my car and headed to CVS for a highlighting kit. You probably know where this is headed. Hair disaster! My normally ash blond hair now has sec...read moretions that are gray, dry, and brittle. My saving grace is pulling it back in a ponytail. The other saving grace is that Tawaka Ancient Tribal Rejuvenating Conditioner and Ojon Restorative Hair Treatment (which I will review in another post) hydrated and restored a healthy look to my overprocessed, fried locks. My tresses were silky and smooth, not sizzling. Unfortunately, the gray streaks remained until I used -- well, that's another story for another day. Why is Tawaka Ancient Tribal Rejuvenating Conditioner Unique? Although the product is light copper in color, the conditioner contains the equivalent of 125 pounds of blueberries. With many studies purporting that blueberries improve short-term memory, do you think continued use of this conditioner will improve my -- what was I talking about? Oh, yeah, memory. I guess that really would be brains on beauty. Pros: * 98% natural * intensively moisturizing * enriched with antioxidants * sulfate-free * conditioning treatment for the hair, scalp, and body * natural scent * enriched with Ojon oil found in the rainforests Cons: I con not think of any, except the price. Tawaka Ancient Tribal Rejuvenating Cleanser ($32) is also available.

LOVE!

This is the very best conditioner I ever used. It's pricey, but worth it! I have fine hair and this gives my hair umph without weighing it down. And the smell is intoxicating!

question

I bought this product today at a salon and i have a hunch that the salon put other product in the containers as it does not smell like chocolate at all and i am very suspicious of what i bought now. Help!!! can anyone post a picture of what the product actually looks like?????

Back
to top