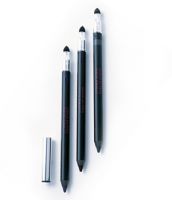 Jemma Kidd Make Up School Define: Stay Put Eyeliner
As low as
Jemma Kidd

I was not familiar with the product until a gal pal gave me one of hers. I love it. It is so easy to use, goes on easy and it lasted me almost all day, and it would have except for I had itchy allergy eyes that day. Worth every penny.

Actually lives up to its name

I am in love with this stuff because it really is true to its name: it stays put and does not budge (until you want it to)! Yipee! It's kind of amazing -- an eyeliner that actually stays in place without smudging or fading for 14+ hours. The other thing I like about it is that the application is very, very smooth. It feels like Stila's Kajal when it goes on -- very creamy and easy to apply. But unlike the Kajal, it doesn't migrate to my lower lid at all. Very nice product.

Back
to top