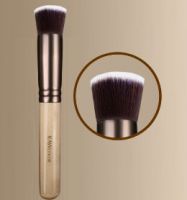 Must have

I have many of these brushes because I love them so much. they are so soft and do an amazing job with my foundation

Best Foundation Brush!

So glad I got this with my trial kit I mean WOW talk about making any and all foundations i've gotten look great! Seriously from minerals to liquid and named brand to drugstore lines. Definitely worth the investment if you're looking for a full coverage foundation brush. I pretty much use it with highlighters, bronzers, blushes, foundations... great versatile brush. Not to mention i've had it ...read morefor awhile now and stays in great condition as long as you care for brushes like they should be.

Little Stubby Does It All

Well, as just another 30-day test person, Raw Minerals foundation brush was an unexpected surprise. I'd used a "stubby" brush when BareMinerals came out with their orange handled brushes. This is simply not the same. I'm afraid little stubby has a bit of an odor about him, but a little shampoo and he's been accepted by his fellow brushes. This is a new way of applying foundation for me....read more It has such a small, circular application area; doesn't take any longer to apply than a kabuki. I usually have to "fill" the brush a mere two times per application and the coverage is there. This brush is a tad pricey but worth a lot more. I have been cleaning it after each makeup which may seem a bit much, but stubby is still an understated part of the trial, and a gift at that!

Back
to top