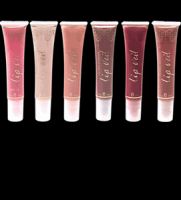 Global Goddess Moroccan Mystique Lip Veils
As low as
Editor's Rating & Review
I'm addicted to gloss but also have to wear SPF on my lips, so I'm always thrilled when a lip gloss contains SPF. Unfortunately, only one of these six neutral shades, Desert Jewel, contains it, which is odd. Also, that shade goes on clear despite looking bright pink in the tube -- a bit disappointing if you're expecting a "sheer pink" tint. (As is I need to layer it over a darker color, which somewhat negates the multi-tasking aspect.) The upside: The texture of Moroccan Mystique Lip Veils is thick and shiny but not sticky. Plus the moisture factor is great for chapped lips.
Reviewed by Sarah on 11/07/2008

How we review products
I wear it day and night

I have these lip veils in Casbah which is like a nude color with shimmer in it, in Cardamom which is a very nice pink color, and in Marrakech which is like burgundy. I rarely put on lipstick but I use a lot of lip gloss which is enough to make me feel like I have sexy lips. I have one pretty much in every purse. These Global Goddess lip veils provide a lot of moisture and shine and the colors of C...read moreardamom and Marrakech stay on pretty long. I use the Casbah as a lip balm before going to bed and I wake up every morning with soft lips. The tubes are flexible yet strong so they retain their shape. I don't like lip gloss tubes that get so ugly overtime like toothpaste tubes. Lip glosses are like a woman's accessory and it's nice to pull a good looking one out of your purse whether in your home or in public.

Back
to top