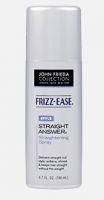 Editor's Rating & Review
This product somewhat helps wavy hair stay straight, but doesn't leave it soft or shiny. On the contrary, it leaves a stiff residue like firm-hold hairspray. Sprayed on wet hair, it's undetectable, but you'll feel like you're blow-drying with no product -- an unpleasant experience that causes breakage. Frizz-Ease Clearly Defined Style Holding Gel is a better alternative; it straightens and allows the brush to glide through hair.
Reviewed by beth on 12/03/2007

How we review products
Somewhat Straight

This formula doesn't do a wonderful job at straightening but it does work a little. I didn't like the greasy feeling of the serum and it only works a little on wavy hair. This does a good job at controlling flyaway hair, but leaves hair looking dull.

Straightening Spray

I absolutely hated this styling product. When you apply it to wet hair, you can't really feel it there but once it dries, oh boy. This product manages somehow to make my hair feel sticky AND crunchy even when I used just one or two sprays in my hair. This was a huge let-down considering how much I love their ant-frizz serum.

Eh...

I really did not like this product. I was so surprised too because I love other John Frieda products. This spray weighed my hair down. Plus, I thought it had a strange smell to it. My friend and I both agreed that it smelled like pencil shavings.

Back
to top