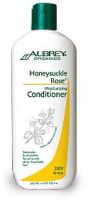 great product

sometimes hard to find in stores

Great!

I was a little skeptical about this at first because I bought it with the Glycogen Protein Balancing Shampoo by Aubrey as well. When I rinsed out the shampoo, my hair felt like wet straw. So I shook this stuff up, plopped it in my hand, and worked it through my hair. I let it sit for like 7 minutes just for good measure, but when I rinsed it out... ...no more straw!! So I'm not sure if the shampo...read moreo was really bad or if the conditioner was really good, or both, or if they were just made to work together but something went pretty well here. My money's on the conditioner. The only thing that takes some getting used to is the smell. It doesn't smell like honeysuckle; it doesn't smell like roses. It kind of smells like suntan lotion, probably because the main ingredient is coconut oil. Which is awesome for your hair anyway. So, look, if you have dry hair, you might as well give it a shot.

Great conditioner for relaxed hair!!!!

I do the deep conditoning treatment described on the bottle about every 8-12 days when I wash my hair. My relaxed hair has never looked of felt better. It makes my hair feel amazing and I love the smell much better that the GPB(also by aubrey). The corresponding shampoo is great too and dosent strip my hair of moisture. My stylist even commented that my hair was looking healthy and asked me what i...read more have been using and she trimmed off less split ends when I went for a touchup yesterday. I also have noticed less shedding(i dont shed much usually but now im not really shedding at all). This really works for me and I cant imagine switching to something else. Shop around for it because the prices can vary alot. I used to buy it at whole foods but its really overpriced there :( now I get it for less at an organic market near my house for $3 less per bottlee!!!!!

Back
to top