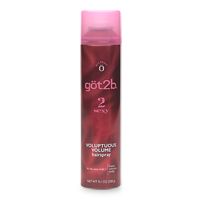 works well on un dyed hair...

I brought mine with me to a sleepover party because we were doing a makeover and my blonde friend used it and her hair is ORANGE!! I'm not sure if she's dyed her hair or not... maybe peekaboo highlights because its only orange in some spots but WOW her hair is legit bright ORANGE!! but on me it works well i really like it so far but watch out for blondes !!

Cheap and nice

I think this is a good hairspray to have on hand. It's inexpensive, holds extremely well, and if used correctly volume is definitely added. If you need a hairspray to give serious volume and last all day, I wouldn't necessarily use this, but when I have an updo and I need some hold I use this. Also, when I want a quick burst of oomph to my hair.

Best hairspray I have ever tried

This hairspray is amazing. It holds my spikey hair in the back and on top. I have been looking for a hairspray like this for years, but until yesterday, I never found it. A little spray fills in the holes and I can spray and have plenty of time to arrange my hair into place. I can't get over it, fabulous! I hope this company NEVER goes out of business. I'll try some of their other products now. I am a "got2b" girl forever!

Back
to top