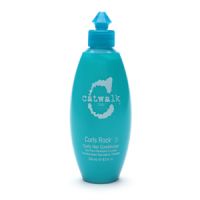 Decent but not amazing

This was not by any means a bad conditioner, but it just didn't do enough for me to keep using it. It's not too heavy, which is a major plus for people with fine curly hair like me. But I didn't feel like it left my hair any healthier or more defined. The price is also a little ridiculous for what you get.

Not "the Best I've ever used" but good

I can't say that I LOVE this conditioner nor can I say that's it's not good. I resort to this when I try something new and it doesn't work. This is my "safety net" conditioner because it doesn't do a bad job, it leaves my hair moist, airy, not heavy and not sticky. I don't use it so much around my scalp area, but everywhere else (I have longer-than-shoulder-length curly hair). It smells pretty goo...read mored, lathers in easily and washes out easily, too. I usually leave it on for about 2-3 minutes. But I'm still looking for something better. :)

Wow!

I was sleeping over at a friend's house, and happened to use this product while showering there. The next morning I could not stop staring at myself in the mirror! My curls looked natural and amazing!

Back
to top