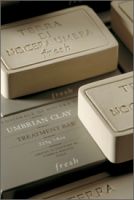 It's like i'm at the spa in my own tub :)

I like using this as a mask, i put it on right before my bath (on a clean face) and sit for twenty minutes before i wash it off. You could use this everyday and it wouldn't dry out your skin like most clays would. The first time i used this i was amazed at how different my skin looked (still am everytime i use it) my pores looked smaller, skin was smoother and this huge red zit on my cheek was lig...read moreht pink and practically gone (it was really red cause i had picked at it, shhhh our little secret). I found the best way to use this is wet your fingers on one hand and rub it on the bar to make a light paste on your fingers then apply to a damp face, keep wetting your fingers as the clay will absorb the moisture and it will become difficult to rub off. Keep it in a dry place (not the shower) to preserve it. Right now i use this every other day (everyday the week before my period because that's when my skin is most acne prone). My results are practically no more breakouts or irritation, less oil, smooth skin and smaller pores. You can barely tell i've used it so it's obvious this bar will last and last, very much worth the money. (Oh btw, i got mine on e-bay for super cheap)

Life saver

Controlled my breakouts and stopped the scaring part afterwards!

Best zit-stopper

A dab of this on the spot when you feel a blemish starting to form will prevent it from ever happening. A bar will last for years. It is a bit messy, but worth the trouble.

Back
to top