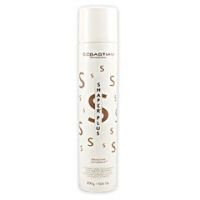 Editor's Rating & Review
So many false promises for one bottle: "24 hour control" that "holds up in high humidity" reels buyers in, but you must remember, almost nothing is capable of that. It's true that the hold is "touchable." And the scent is nice, but one spray and you're surrounded by a thick cloud whose taste lingers in the back of your throat for a few minutes. An alternative worth exploring is Finesse, which does it cheaper and better.
Reviewed by Kristen on 12/18/2007

How we review products
CRAZY hold

Whenever I tease my hair for big volume I use this and this freezes it in place. It's wonderful to use on your roots. I definitely would not use this as a finishing spray on your entire head though, you would have a crazy helmet head.

good spray

i like this hairspray a lot. but after a few hours, my hair does loose shape a little and its a little frizzier. it is never crunchy though, which i do like. overall, great for a day but not for heavy activity outside.

So-So

I tried this hairspray and it worked pretty well at keeping my hair in place but still manageable and not hard or crunchy. I think I may get a bottle in case of emergencies because I usually don't wear heavy hairspray.

Back
to top