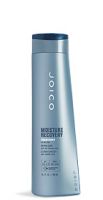 Joico

Joico means quality to me and it always has. ever since I used their products years ago, I always buy them if I have extra money. This gives great conditioning results and the scent is very lovely but not too strong.

Smells wonderful and makes my ends soft!

I purchased this with the shampoo and am so happy I did! I have naturally dark brown hair with ombre blonde tips and wanted to see if this would help put some moisture back into my hair. I use about two quarter size amounts and rub and work into my ends. I usually put my hair up into a messy bun while I take the rest of my shower, switch the water temperature to cool-warm and rinse out the cond...read moreitioner while softly brushing the ends with a comb. My hair feels soft and detangled even before I get out of the shower. I wrap my hair in a towel, and let the excess water dry up, than brush through and my hair is soft and ready to be styled! Will always buy this!

Could Be Better

My hair is long and thick, with highlites. Not really dry per se, but I thought I could use this for color treated as well. I did notice less hair loss in the shower, and it does have a nice smell, but it still left my hair a little tangled. I am a little disappointed - I was torn between this product and Redken Color Extend, but frankly the reviews for this product (shampoo as well) were better. ...read moreMy hair is not difficult, so I am not sure how people with truly dry hair don't have tangles with this poduct.

Back
to top