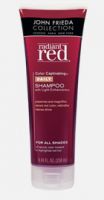 When I go red...

If you're a colored redhead, which I occasionally am, you know how hard it is to maintain your color. I can never tell if this shampoo helps, but it certainly doesn't hurt. It's not as good as the original Radiant Red version, which was awesome, but it's still a decent product if you don't want to spend more than $10 per product. I highly recommend glazing several times a week as well to help this product work as it should.

I LOVE this stuff!

I've been using Radiant Red for a while now . . . I always dye my hair a black cherry, but it washes out pretty quick, even with dark brown hair. This product was suggested, and I've used it now for about 8 months! I dye my hair once every two months, and trust me . . . I HAVE gray hair!!! It doesn't work well in terms of adding color around my face, but my hair style hides that. The rest of m...read morey roots are still RED! My hair is soft (better when I found and started using the conditioner in conjunction with the shampoo). Everyone loves my "hair color", and they crack up when I tell them it's a shampoo :-D Can't say enough good about this one, and I usually don't do the whole review-a-product thing.

Drying, but brings out the highlights

My natural color is auburn that tends to fade out to brown and lose the red highlights at certain times of year. I color to punch it up, and I thought maybe this shampoo might help hold onto the red (natural and helpers) .While it does bring out the highlights and help me hang onto my added color, I find this shampoo extremely drying. (We have extremely hard water, which doesn't help.) I'm not cra...read morezy about the odor --it smells like a salon chemical I can't identify--and it gives my hair a strawlike feeling until I apply my conditoner. Because it does bring out my highlights, after some experimentation I found it works better when I lather once with this, rinse, and lather again with a really good conditioning shampoo for dry colored hair and use a really good conditioner. This combo seems to be the ticket, but it would be great if this shampoo actually did that without extra assistance from another shampoo!.

Back
to top