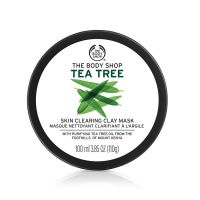 Excellent First Impression!!!

I love The Body Shop and am always looking to try new products from them. I recently discovered the Tea Tree line because I have light acne but no matter what I do I always have atleast one pimple on my face. I did some research and found that this had really high reviews so I was quite excited to try it. I finally bought it today and waited til night time to try it. And so far so good! I like the...read more tingly feeling it gives, and I can really feel it giving my skin a deep clean, I've taken of one star because I've only used it once but I will do an updated review to decide my final opinion.

Deep Clean Mask

I got this when I was having heavy break outs, and with regular use I can see a real difference in my skin. i love the cool sensation it leaves.

Review subject

I used to use the Queen Helene Mint Julep mask all the time, but then I discovered this! It works so much better and it calms my skin. I use it when I'm having a problem skin day and it really clears break outs.

Back
to top