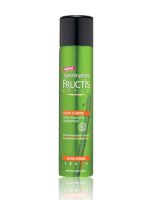 good!

i like this hairspray because it does hold, and does not add crunch. BUT it only slightly controls against humidity. great for everyday use because its light. i would purchase again and recommend to a friend.

not so sure

i have really curly hair and when i straighten it it gets really straight, but needs something to seal it off. this works when my hair is straight, when its curly a good 80 percent of the time, this makes my curls crunchy.

great

Fructis hairsprays are among my very favorite ones, especially for every day use. This product does not make my hair heavy, sticky, or crunchy, which would be awful on long hair. It doesn't provide a very strong hold, but it certainly works god enough to make my hair look great all day. Another great plus is that it doesn't make hair feel or look dirty. I've bought this hair spray many times and will buy it again.

Back
to top