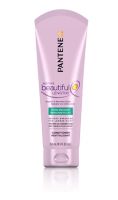 Editor's Rating & Review
The bottle doesn't warn you, but this product is really made for thick, dry hair. Although it's insanely moisturizing and adds healthy-looking shine, if your hair is even slightly oily or fine, this stuff will pull it down. We're highly skeptical about the claim that it restores two years of damage. While hair is porous and can soak up moisture, it isn't alive, and it can't be "healed" like your skin.
Reviewed by Kristen on 09/25/2007

How we review products
Great for my hair

I have thick, frizzly and dry hair. This conditioner helped my hair getting detangled easily, but the name "Time Renewal" is an oversatement. This does not actually "repair" damaged hair, it just makes my hair look better. I still recommend this product to those who have hair type like mine and who are looking for affordable moisturizing conditioner.

Eventual Build-Up

I have dark brown hair down to the middle of my back. It isn't chemically treated, but I seem to always have split ends due to daily blow outs and flat ironing. I like this product because I do feel like it leaves my long hair somewhat better protected than regular conditioner. Kind of coated in a way. I was told by a hairdresser once that Pantene tends to put silicone in their products and while ...read moreI have no real evidence that this is true, I wouldn't be surprised it was, especially for the restoratives collection. The main draw back to this product is that I feel about two weeks into using this conditioner I have major product build up, and it makes my hair more difficult to manage and kinda limp. At that point I have to do several washes with a clarifying shampoo to get back to basics. I will also add that I major issues with this one when showering with well water. My in-laws use well water, and after two uses of this at their house the build-up is super noticeable. My hair is dull, lifeless, and limp. I can only describe the scent of this conditioner as a 'clean, slightly sweet, producty' type smell, as it isn't at all fruity or floral.

Yuck!

I thought I would get something decent for the cost, however this dried my hair out.

Back
to top