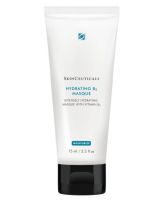 SkinCeuticals Hydrating B5 Mask
As low as
Mixed feelings on this

I first used this about maybe 4 years ago and occassionally use it if my skin feels dehydrated or just relaxing with a bottle of wine at home doing my own spa day. I don't know if it does wonders, but I do know it's thick and takes a while to dry. I've slept with it on and my skin seems to like it. I can't really tell though if it works or not, but I feel it helps to seal and lock in my serums ...read morewhen I put this on after it. It's pretty sticky, but hey beauty isn't really an easy thing to keep up with. I will continue to use it as where my skin is nice and how it was when I was 25 yrs old, so this must be working. It's a pretty good price compared to others out there and you can find it on amazon and ebay cheaper than the spa's for sure.

Fabulous

Tip: Put it on at night and sleep in it. My aestheticion recommended this for my dry, sun damaged skin and wow -- when I do this I wake up in the morning looking glowing. No kidding. If you like the B5 gel, you will love this.

Unbelievable!!!

I'm in my 20s, combination skin (oily T-zone and dry cheeks), and yellow-toned. I have used the Hydaring B5 Gel and am very happy with it, so I decided to try out this mask out after reading some good reviews on skinstore.com. The result is just unbelievable. No other masks have given me the same result as this one. Trust me, I have tried many because I live in a cold climate so my skin gets irrit...read moreated, itchy, and dry easily. I recommend applying the gel with a masque brush to create an even layer. Feel free to apply on the T-zone because it is not going to make it oily. You might not like the gel feeling on your face, but it shouldn't matter since you're going to fall asleep anyway and we can do anything for our beauty, right? My make-up looks much better one me after using this masque I guess because the skin is hydrated. Overall, I am very satisfied with this product.

Back
to top