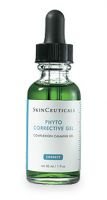 Must have improved after 5yrs

Okay so I first tried this product over 5 years ago. I love CE ferulic and have used the whole kit in the past. I bounce around on skincare so my skin doesn't get use to stuff, plus I love trying and having different products. I'm a faithful CE ferulic user though. Well I swear in the past five years I've tried this on and off and could never see how or why it was good for my skin, so I stop usi...read moreng it unless I buy the travel kit then I use it to not let it go to waste. Well Last week I got a hydrafacial wand and this is a facial with 3 in 1 visit. They clean my skin with like a glycolic feeling peel which ofcourse makes your skin sensitive. I always wondered though How and WHY my skin looks glowing and smooth, not red like other spas I've been too. Well my esthetician told me my skin was flush, but she used Phyto Gel and it calmed my redness and made my skin glowingly smooth. I was shocked and told her I've used it before, but couldn't single out if it was doing anything for me or not. I take really good care of my skin and get facials almost weekly and I do my own intense moisture masks myself as well. Well she told me when I do go to my other medi spa and get peels or anything that makes me flush, to put this over. Well I was flush the other day and I used this and it sooo Soothed my skin. Now as for discoloration and all, I would know if it works, because I don't have any, but I'm using this now as a preventive measurement. This product is cheap at $60 a bottle, but cheaper and last longer if you buy the Travel size, which comes out to the same amount, but literally almost 60% cheaper..Check amazon and/or ebay. Also sign up for ebates because then it's even cheaper with money rebates.

Don't know a good thing until its gone

This is one of those products that you don't realize is critical to your daily routine until you stop using it. My esthetician recommended that I use this product to review a few discoloration spots that were becoming more visible as I was getting a little older. Because it works subtly, I almost didn't realize it was working. My skin was looking great, but I'm kind of a product junk...read moreie so it was hard to attribute it to one thing. That was until I stopped using it and the uneven skin tone started to become noticeable. There's no irritation with this product, it's easy to use and is effective in both the protection and removal of minor discolorations.

I've had better....

A lot of people rave about this product. I've used it and really haven't found it useful, so, I stopped using it. It was recommended to my by my Dermatologist's staff, as they carry the Skinceuticals line. I just didn't see the benefit. I have very reactive, but normal skin (ie combination), had skin cancer and am very sun sensitive. I'm religious about sunblock and vitamin c products for the skin...read more, but didn't find this to be a benefit. I didn't "see the difference" in my skin.

Back
to top