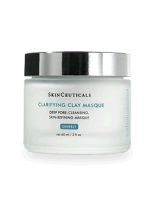 SkinCeuticals Clarifying Clay Masque
As low as
Little bit goes a long way!

Yes the jar looks teeny, yes its pricey, but its worth it. I only use it once a week because it is pretty drying and my facialist warned me not to use it more than that (i have combo acne prone skin). Great weekly exfoliant and pore clearer! Also, if I notice a zit starting to form, I use this on the spot and it will minimize the redness & inflammation. You will notice a difference in your skin...works great!

Pretty Good

So I thought this little jar wouldn't last very long, but like the previous reviewer said what SKinceuticals lacks in cost makes up for in value for this product. I've noticed that a little goes along way, and the product is not a heavy mask but it works just the same, my favorite part is that when it dries it's hard and flaky which makes it easy to wash off... It combine Clay and Fruit Acids, now...read morewwww I think they could've usid actually Low ph BHA & AhA's instead for the cost the mask as they're more effective, but without them it makes this product a good buy for even sensitive skins. As for results, I really like how it tightens my pore appearance and over the last 2 months, I havent had a breakout again. It's also not too bad as a spot treatment and doesn't leave your skin too dry. It is pricey though and there are better masks out there in terms efficacy , but if you like the line it is a worthy buy.

Great Masque

I really like skinceuticals products. I thought that they were pricey at first but with use they are pretty economical. I love the way my skin feels after using this. It seems to really brighten my skin. Your face also feels smooth and clean. I like that your face doesn't feel taut, just firm with this.I use it once a week.

Back
to top