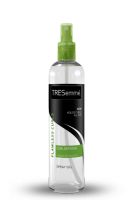 lasts all day

this spray really made my curls shape properly and it also held all day. it is a light spray with a lot of hold. the quality is excellent and it is a great value. also, one thing i did not like is that my hair was sticky when i touched it. that is just something i dont like about hairsprays in general. i prefer leave in conditioner.

Great product when used correctly

I use this product almost everyday and it is amazing! I used to use it on top of tresemme flawless curls mousse but I found that my very curly hair was crunchy and would not have as much body as I like. I quit using the mousse and started putting this on top of Moroccan oil curl cream (which is really just leave in conditioner) and I found that my hair is shiny, has lots of volume and the ends nev...read moreer get dry. Also I found that if you spray this product directly into your hair, your hair will clump up and make a big crunchy knot. I suggest spraying between 4-6 sprays into your hand and then massage it into your hair. After you put on the spray gel I always give my hair a little scrunch to make sure there is no crunch in my hair, and my curls are full.

an ok product

I tried this product because I love the tresemme brand. Because I have fine hair I find it hard to use a product that contains any kind of gel because even though it holds my curls, it still leaves them a little crunchy. I think that this product does a great job of preventing frizz and giving defined curls like it says on the bottle. I just wish that it left my curls softer. Overall a good product.

Back
to top