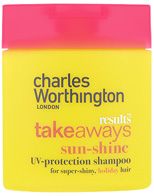 Charles

works well

excellent product...well worth buying!

this is absolutely fabulous stuff...smells fab and fruity and doesn't leave hair lookin lank or greasy! when coupled with the shampoo, your hair will look shiny as well as be protected from those dreaded UV's!! overall, i think this is worth its weight in gold and wouldn't be without it...definately worth every penny!! i gotta say, i love the packaging on this too...bright and cheery and in some shops, available in handbag sized mini spray!!

;)

It smells good, it works good, it's all good!

Back
to top