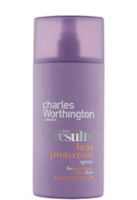 best of its kind!

I have tried many different heat protection products because I blow dry and straighten my hair everyday so it really needs help! With other products I never noticed a difference, wasn't sure if they were working or not but with this I can tell! The ends of my hair look SOOOO much better now! Highly recommend!

Amazing

This product is amazing! I personally have thick hair so I straighten a lot. I've been trying many products and I finally came to this. I saved my life! It works so well with your hair, it makes it so that you don't get split ends or damaged hair. I don't know what i would do without it! I strongly recommend using this as your heat rpotectant spray!

Over heated Curls

This is the product to produce nice, shiny curls that aren't all dried out. I will continue to use and recommend this spary for the great protection it offers as well as the smell.

Back
to top