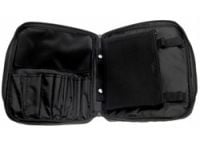 Smashbox Stylist Bag
As low as
Smashbox Stylist Bag

What a wonderful bag to help keep my granddaughter, Ibby, keep organized. Ibby will graduate from high school on June 7th. What a nice item for a graduation present. Also, she can take it to West Virginia University with her in August. This item is reasonably priced and will last for her 4 years of college. I am sure this bag can withstand the wear of traveling to and from school.

Stylist Bag-a great makeup organizer!

This bag will hold everything (or almost everything!) The front puch holds all of our brushes (most of mine are SB, but that doesn't matter) the inner zipped mesh bag holds anything and everything, plus it unsnaps for on the go travel. The back has several elastic bands that hold just about anything. I can put compacts in there, my philosophy supernatual pwwder, tubes-several in one band, more ...read morebrushes, Tarte cheek stains, eyeshadows, relaly just about anything! The quality of the bag is also very good, I;ve had mine for several years. At $50, it is expensive, but it can travel with you or be used for daily use. Wipes clean without a problem. It did take me about a year to decide to purchase, but I have had mine for several years now and it's worth every penny. All product and brushes are layed out for you and within easy reach.

Back
to top