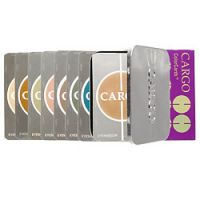 CARGO ColorCards
As low as
Travel-Friendly

Cargo Color Cards and Cargo Daily Gloss are two of my compansions that travel me when I fly by plane. With American Airlines charging for baggage and others following suit, efficient packing is a must. There are 28 cards in different shades that pack a punch without packing the weight. I "gift" the colors that don't match my palette to my daughter. Travel-friendly!!!

Great colors, perfect for travel

What is great about these travel eye shadows is that each "card" actually lasts an entire trip - you get numerous uses out of one card so the cost is actually quite good. I have only managed to go through one card and have tried to other cards a couple of times and that is still a ton of eye shadow on them. Great for a girl on the go!

Back
to top