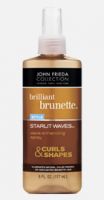 Editor's Rating & Review
This oh-so-pretty, coconut-y spray does help give natural landlocked waves a tousled, beach-y touch. It's particularly good for midday refreshers. And like it promises, it provides "multi-dimensional shine" for brunettes, regardless of whether your color comes courtesy of nature or a bottle. But don't believe the part about getting great definition; you'll still need a styling cream for control. A final warning: It gets greasy-looking really quickly, so make sure to only use a few pumps.
Reviewed by Kristen on 10/04/2007

How we review products
Completes the set

I use the Brilliant Brunette set as it is the only product line that really tames my crazy lion hair. Shake the spray well and spritz on. It says to use on wet hair but I've used it on wet and dray and it works great. I have dry hair so have not experienced the greasiness some folks report. My hair goes from frizzy to wavy and soft. And the smell is wonderful. Great product for me.

Curls, Waves and Shine but NO GREASE!

Really makes my permed hair shiny, well-managed and beautiful without toally weighing it down or making it look greasy and limp. In fact, I get so many complements - people even insist that my hair MUST be naturally wavy. They say "No way that's a perm!"

Nice shine & waves, soft hair

Looking for a replacement for Beach Blonde's Surf Spray by John Frieda (it was discontinued quite awhile ago, grrrr); I picked up John Frieda's Starlit Waves in the Brilliant Brunette line. The spray promises "Wave enhancement" and "be luminious". With a few spritz (careful not to overdo it!) and a few scrunches, I had sufficiently beachy hair. I was especiall...read morey pleased since the next product for me to try was the Bumble & Bumble Surf Spray (which is pretty darn costly). Anyhow… the spray did make my hair soft, scrunchy, and yet perfectly shiny. Love it!

Back
to top