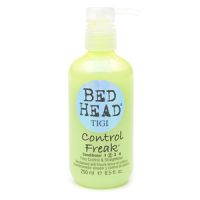 Dont' LIke it

Made my hair feel like it was coated with a film of something I didn't like. Not good.

awful

This is one of the worst conditioners I have tried. I used it with the shampoo that goes with it, but it left a strange film on my hair and didn't condition it at all. It didn't matter how much of it I used, it still made my hair look and feel horrible. It does have a nice scent, but that is all I tossed it.

my head = not happy

For some reason, when I bought and used this shampoo and conditioner, my hair got CRAZY static-y! I bought the huge bottles though and didn't want to waste them, so I used some hardcore leave-in conditioner after every shower for the 3 months or however long it lasted. Shampoo and conditioner have never made my hair that crazy though.

Back
to top