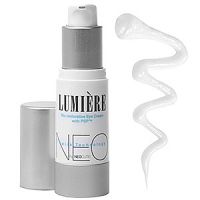 Noticed a difference in under a week!

I had a procedure done at a local spa 6 days ago and was talking with the RN about my upcoming trip to Switzerland. I had mentioned how lovely her skin looked and she stated she was using this skincare line that happened to be from the same country and that it had literally transformed her skin...she then said she would show me this line after my procedure was done. Thinking this was a "plug...read more" to sell me over-priced skincare products I really didn't need, I just agreed to have her show me what the line had to offer when we were done and I would gleefully decline to purchase and be on my merry way. Post procedure, we went out to the showroom and she began to describe this Neocutis skincare line from Switzerland and showed me the 5 or 6 items in their line, saying that they contained "processed skin protiens" and how they had changed her skin. She did state that they were very expensive for the average person, but if she could recommend buying any out of the line it would be the Hydrogel and the Journee Day Cream with SPF 30...... I thought the Human Growth Factor, Processed Skin Protien theory sounded quite interesting so I decided to purchase both the Journee Day Cream and the Hydrogel and started using the Hydrogel that evening..... My first thoughts on using that evening with the hydrogel were: Packaging quality was very nice. It comes in just over a one and a half ounce pump bottle which doesn't seem like much....but considering the pump works like a dream (sometimes a problem with many pump dispensers) and dispenses only the amount you want with controlled accuracy, I can see where this would last a long time because you don't need a full pump for the face....a half pump is perfect for myself. It is a clear gel that glides on as smooth as silk and soaks in quickly, not leaving one hint of stickiness or residue and afterwards your skin feels like glass. Ok...so far so good I am thinking on my first night. The following morning, I start the full regime with the Journee Day Cream and the Hydrogel in the AM and the Hydrogel in the PM.....My initial thoughts on the Journee: Nice dispenser and bottle as well. It is a beige colored cream that seems to go on slightly white at first, but then dissipates to give your skin a slightly even base to support your makeup. Most often, I find that anything with sunscreen pills or balls up when applying makeup over top of it and I found this provides a wonderful base to put your foundation over top. Ok, so now I am getting a little more excited about this stuff..... Fast forward to day 4 of using this line.....this is where I really am getting excited. My skin problems: I am 39 years old with dry skin, only very fine, fine lines in certain areas, no wrinkles or crows feet, slightly enlarged pores, some problems with hyperpigmentation (freckling, slight sundamage, a few broken caps) and I am a 20 year smoker trying to quit for the sake of vanity!!! My biggest problem with using makeup is while it looks nice and fresh when I first put it on, by the end of the day my skin looks tired, I have settling of makeup in the pores and I look older!!! What I noticed on day 4 with using this line is how SUPER my face looks even after wearing makeup all day. I have this lovely youthful glow, my skin looks smoother and firmer, pores are barely visible and I have somehow managed to keep that "freshly applied makeup" look.... There are very few products that can claim results in under a week....but I've managed to find one that does and will continue using this line to see what it can do after using for several months. Have to say I haven't been this excited over something since retin-a and Easy Eye Solutions products (and if you have under eye bags, noticeable tear troughs or lines...ladies, you HAVE to check out that line of eye care..it is a miracle in a bottle and takes 10 years off your eyes instantly!!) So to sum it all up....this is definitely a 10 thus far with me. It's pricey, but so worth it in my opinion. I recommend purchasing off Ebay thought to save some cash and I will be doing that myself in the future.

Save Your Money

After years of relying on Retin-A, Cellex-C vitamin C creams and chemical peels, I thought I would step up my game with this product. It came highly recommended as the second generation of human growth factor and an effective means of building up the skin. After two and a half months of use, I notice no difference. Granted my skin is already very beautiful (firm, even toned, glowing and unlined)...read more, but I hoped this product would add some additional benefit. Considering the price, I expected more.

My skin has transformed!

I love the Bio-Gel by Neocutis as well as the Journee which has SFP30 in it. I highly recommend it - what makes them unique is that these products contain growth factors and cytokines. I noticed the difference in my skin within 2 days. Got mine at online at AlexaSpa - came with lots of samples and fast delivery. Picture is of the eye cream not the BIO-GEL. Priced at about $145 but can get it for lower on AlexaSpa.

Back
to top