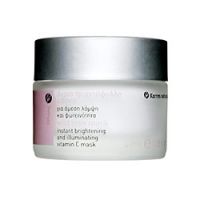 glowy

I used this from a sample i received and very much enjoyed everything about it, it softened my skin, and gave me a soft dewy glow afterwards. not sure i would pay full price for it but thats just me, always looking for a bargain :) i would recommend it to others with dry, dull skin.. i also love the fact that after the mask dries you can still laugh, smile, or talk without pieces of it cracking an...read mored falling off.. i wear it more than the suggested time since its not uncomfortable for it to remain on my skin for however long.

Im in love

I love this mask it does what it says it claims to do. the smell is devine.i use the mask about twice a week i leave it on for about 20 min when you rinse it off your face is so soft and it is bright. i look forwatd to using this mask.An excellent product.

good healthy mask

I have tried this twice as I got it as a sample. Good mask overall, not my favorite. Have tried better ones. I felt that after rinsing I didn't feel my skin was fresh and cleansed as I do with others.

Back
to top