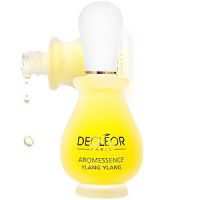 Not really sure how this works, but...

...I think it's a lovely product! I don't actually own it, but my facialist uses this to massage my face after she cleans it and it feels divine. It makes your skin buttery soft and supple. A bit expensive to buy and use on my own, but I love it.

Doesn't seem to do much.

I've used this or months and haven't really noticed much of a difference. What a dissapointment.

Wierd, luxe, French, and awesome.

So it sounds completely counter-intuitive to use oil to fight oil, but once I let the staffers at Lucky magazine talk me into it (they are ALWAYS right, btw), I was in awe. This is the tiniest, chicest, most luxurious little bottle, the concentrate is light and velvety smooth and gorgeously fragranced, and it only takes one or two drops to leave my complexion even and dewy and completely moisturiz...read moreed, yet somehow, inexplicably, clear as a bell. I use a bit of this in the morning under a tinted moisturizer, and a little more at night to enhance my night cream. Its never greasy, and the bottle lasts forever. Did I mention that it smells incredible? Well worth the splurge.

Back
to top