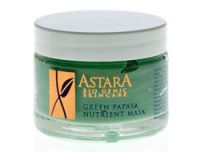 Astara Green Papaya Nutrient Mask
As low as
Another Star from Astara

Astara is well known for it's lovely, herbal and rejuvenating face masks. I had rave reviews for the Blue Flame mask and expanded my horizons to their Green Papaya Nutrient Mask. As my loyal readers know, I recently moved half way across the country. Yes, this causes stress. And what's a Bionic Beauty to do to alleviate stress? She digs through her bin of goodies in search of relaxa...read moretion. Ahhh… here we go: "Do you sometimes feel stressed?" (BB says YES!) "This mask is for those days." Solution found! I slathered some on my face and immediately loved how the essential oils chosen for this mask really help to soothe the mind. My breakout "issue" redness was reduced and my mind slowed while I sat enjoying the spa-at-home experience. It soothed my skin, smoothed the outer layer, rinsed easily. Afterwards, my skin felt so much softer!! It's now my go-to relax face mask. Combine it with a soak in the tub, and I'm one happy chick.

Great for Sensitive Blemished Skin

Really zaps the red out of a blemish and helps prevent new blemishes from forming. If you get blotchy redness, especially around the mouth and nose ares, but still want to exfoliate for a nice glow... this is the stuff for you!

Back
to top