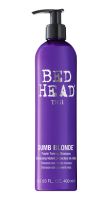 Love It

I really like this shampoo. It only takes a little bit to make such a big lather. Leaves hair very clean and nice.

don't be fooled by the name

This is my favorite shampoo ever. I can almost always find it on sale so the price I have been paying makes it really affordable to me and I can keep it as a staple. It's not just for people with blonde hair either, anyone with any hair color can use it. The smell is amazing and it really lasts in your hair too, even after you've worked out hard at the gym or out in the yard all day. I usually...read more get my hair highlighted (which always dries it out) and this really keeps my hair protected and moisturized. I do use this shampoo with the dumb blonde conditioner and my hair just looks and feels very healthy. I haven't had any problems with it feeling like straw or anything else.

smell it and sell it

you kno, there is probly 5 other shampoos that will do the same thing for your hair as far as the great strengthening protein enriched formula goes, but NONE of them SMELLS this good. it is, by far the best smelling shampoo i use. it even smells great the next time you get in the shower to wash your hair, when it gets wet, or when youre doing something sweaty...ehehe. oh, BTW this is for damaged hair to strengthen it, not for dry hair, or to lighten hair! LOL!

Back
to top