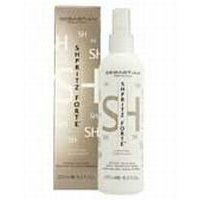 Sebastian Originals Shpritz Forte
As low as
Your hair won't move

If you have an occasion where you really need your hair to stay put, this is your hairspray. I used this on a friend for a Mardi Gras ball, and she dubbed it my "stop a bird in flight hairspray". I don't use this every day anymore (left the 80's hair in the... 90's) but I always keep a bottle around for special occasions.

The original

In the 80s I used this product on my bi-level punky hair. I had the coolest hair. The smell was so sweet. You didn't need to wear perfume. I love this product and always will. If you need your hair to stay or you want to put your hair in a mohawk. This product is for you. It starts off a little sticky also. Its really good spraying from the root.

Back
to top