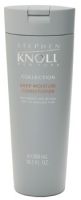 Stephen Knoll Deep Moisture Conditioner
As low as
Best non-Organic Conditioner on the Market

I use all natural and organic products on my hair with the exception of the Stephen Knoll conditioner.

ALSO THE BEST!

If you, like me, have very fine, thinning hair that breaks off, you want to use this after the SK shampoo! It really helps cut down the breakage to a minimum, which is great because I'm wearing my hair longer again. I don't understand AT ALL what the other reviewer was talking about, with build-up and difficulty rinsing. I can't leave anything in my hair or it's trouble. I have never had trouble w...read moreith using or rinsing out this stuff. Maybe that gal's hair didn't need the same level of DEEP moisturizing mine always does. This always does the job and now he stopped making it :-( I'm trying to find any bottles I can, until I'm sure of his new hair care line.

BUILD-UP!

Why do moisturizing conditioners always seem to cause build-up! Still looking for the magic formula!

Back
to top