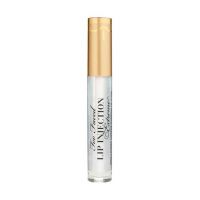 Lip Injection

This does absolutely nothing! It tasted weird, and it did not plump my lips or lines from years of smoking (which I quit) Also, like other lip plumpers, it has a tingly feeling which I don't like. Don't waste your money on this product.

Not bad

One of the most in-demand products available in the beauty industry are lip plumpers. We all seek fuller lips without having to splurge on risky cosmetic surgery. However, we usually become disappointed with the temporary and mostly unnoticeable effects of lip plumpers. Too Face Lip Injection Extreme promises to plump the lips for an effect that lasts several hours; but what sets it aside is its p...read moreromise to offer long-term results with faithful use. The instructions recommend you use it twice a day, in the morning when you're getting ready (to give it some time while you're working on your routine) and at night before you go to bed. If you have ever used a lip plumper, you may be used to the tingling feeling. This is definitely a different feeling than other lip plumpers though. I quite like the feeling that Buxom lip gloss gives your lips. That is definitely more of a tingling feeling. However, the Lip Injection Extreme is more of a stinging feeling than anything. The Buxom gloss tingling is quite strong and the Lip Injection extreme is just a little stronger, but it's not bad if you're used to Buxom already. After a few uses, it won't sting as much to wear it bothers you. If you've never used a lip plumper before, this might be WAY TOO intense for you. Try the original Lip Injection glosses instead. The Lip Injection Extreme also causes an increase in blood flow which causes a increase in color to your lips. I like that this gloss can be worn alone, or under other lip gloss and doesn't feel sticky. This gloss also hydrates and doesn't dry my lips out. I've been using it for a couple weeks now and it's hard to say whether it's doing much of anything on its own because I also happen to use the Buxom glosses during the day. After using both glosses, I have noticed that my lip lines are more plumped out for longer throughout the day. I have noticed that I do get MUCH fuller lips using the Buxom glosses, as opposed to the Lip Injection Extreme. However, I must consider the possibility that the Buxom gloss works so well because the Lip Injection Extreme is already at work. So it's hard to say whether Buxom is better on its own, or because it's had that extra help from Too Faced. My biggest complaint is not only the price for uncertain results, but mostly due to the fact at how HARD it is to find this in stores AND online! It's almost impossible to find it in Ulta or Sephora and even both websites often are out of stock of this product. I have seen it on Amazon, but there's no guarantee where that came from and there's no ability to return it if you're dissatisfied (not to mention you have to pay postage yourself). With this product, I notice my upper lip is slightly more plumped than normal, but I don't see huge results with this. I'm still sitting on the fence whether or not to repurchase this. Fortunately, one tube goes a long way so I'll have a lot more time to see whether it's going to deliver. The reason why I got this was because I was hoping to try to plump out and diminish the lines in my lips. My lips are fortunately quite full, but those lines drive me crazy! Let's see if this works.

Ouch!

I got a sample size tube of this as a gift with purchase. Thank goodness I didn't spend my money on this. The gloss itself looks pretty. It is clear with an iridescent quality to it. The smell was a bit strange to me. It reminded me of a smell that would be used in self tanners to mask that DHA smell. It applied nicely enough but after a few seconds it felt super uncomfortable. It wasn't th...read moree normal lip plumping heat or tingle. It felt like something was wrong! I only lasted a couple minutes before I had to wipe the gloss off. Even after I got it off, my lips still itched and felt horrible. When I touched my lips, they felt really rough. I don't know if it is because the gloss ate away at the skin on my lips or if it was something that the gloss left behind. What a terrible experience! I can't speak to the effectiveness of the lip plumping claim since I couldn't stand to leave it on, let alone use it twice a day consistently (who has the diligence for that anyway?!). But if a product is too painful to endure for even a few minutes, it is a major dud and waste of one's money.

Back
to top